It's official, You're a Titan Power+ VIP🎉
We've lifted the velvet rope just for you! There's free champagne, a monkey butler and a jazz pianist playing on the world's smallest piano. The next stop on your mystery box journey is to enter our black Friday VIP room for the next 48 hours. Access early black friday deals and prices before stock runs out!
WHOLESALE & GIFTING OFFERS
Save up to an extra 35%
We're running flat discounts on our best sellers! To top it off, access wholesale pricing when you buy gifting bundles for 2, 4 or 8 of each product!
GIVE THE GIFT EVERYONE NEEDS!
VIP BUNDLE OFFERS
Unbeatable bundle deals are here! Effortlessly scoop up all your gifts in one go. Give a gift everyone will love – each item packaged separately for easy sharing!
★ ★ ★ ★ ★
HEAR FROM THE TITAN ARMY
Loved & trusted by thousands..
TITAN BUDS 2.0
I've been using Titan Power Plus cables for years, and they're the best. So, I decided to try their earbuds, expecting the same quality. And they didn't disappoint! Superior to others that cost four times more, these earbuds are a smart buy. Do yourself a favor and get these, either for yourself or as a gift. They are 110% quality. Thanks again, Titan Power Plus!
Tony M.
★ ★ ★ ★ ★
TITAN USB-C PD CABLE
This is by far the best charger I've ever had!! The durability, charging speed and construction is second to none. I'm going on my 2nd year with the charger and haven't had to replace it nand nothing beats charging in minutes! My OCD is also so relived to have a cable tie to keep it super organised and sleek!
Claire. M
★ ★ ★ ★ ★
TITAN SMART CABLE
I bought a Titan Power+ cable as a result of solid research and out of desperation. I have an autistic son who has managed to damage every cable he's ever had. I decided to buy a Titan cable due to my research and I am absolutely delighted with it! It has been subjected to harsh treatment by him and has come out unscathed. Would I buy another? Undoubtedly!
Jennie A.
★ ★ ★ ★ ★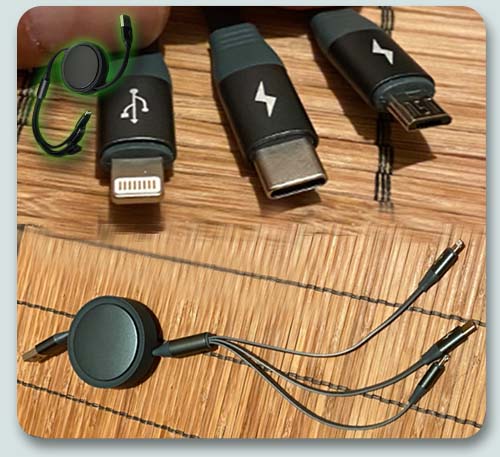 TITAN 3-IN-1 MULTI CABLE
I love how this product allows me to charge my phone and Xbox controller simultaneously while I'm watching TV! It's incredibly convenient to have one cable with iPhone, Type-C, and Micro-USB connectors, catering to all my devices without the need for multiple cables.
Marco S.
★ ★ ★ ★ ★
TITAN TRAVEL KIT
This is a real lifesaver fast I'm always on the move. It's perfect for keeping all my devices charged, from phones to tablets, and the built-in stand is super handy. I love my tiny gadget box with all 3 cables in one and the fast charging is a big plus. I always have it to hand, just in case! Pun intended!
Daniel M.
★ ★ ★ ★ ★
TITAN PORTABLE FOLDING 3-IN-1 DOCK
Now this is cool! Folds right up in my pocket and can wirelessly change for my phone, watch, and earbuds. It's an all-in-one charging pocket rocket that, for a wireless charger, charges damn quickly! Getting another for my office now!
Rina D.
★ ★ ★ ★ ★
TITAN 45W NANO PD PLUG
I have had these before and they have really held up and work great! My old one is 3 years old and going strong. Every time I get a new Apple device I give their plug away. These charge faster and holdup forever and to get 4 charging ports is just great 😊 👍 ! Had to get another my wife has confiscated mine! Lol
Josh G.
★ ★ ★ ★ ★
BLUETOOTH PD CAR CHARGER
Game-changer for my daily drives. It lets me wirelessly play my favorite tracks and keeps my devices charged super fast. I always just assumed you couldn't charge fast in a car but the PD socket fills me up in not time. I hate going out for the day and running out of juice, and this bad boy is my new saviour!
David S.
★ ★ ★ ★ ★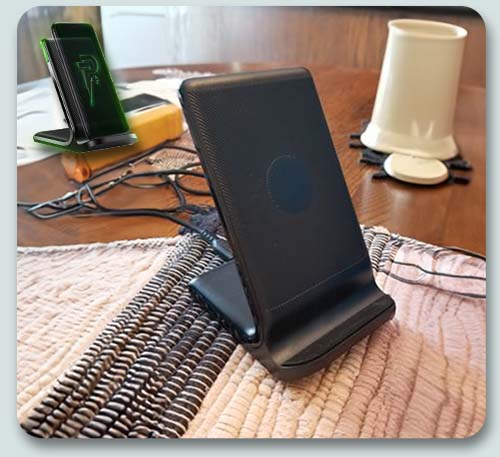 TITAN WIRELESS TURBO DOCK
WOW this product is a home office gem, offering fast, wire-free charging that keeps devices powered up and workspaces neat. Stylish and practical, it charges through cases and serves as a sleek desk accessory. Thankyou Titan
Rodrigo O.
★ ★ ★ ★ ★
3-in-1 WIRELESS DOCK
This keeps all my devices fully charged. It's perfect for my desk, charging my phone, watch, and earbuds all at once! I feel like a right boss lady. Nice too how it doubles up as a sleek clock. When you hate wires and mess like me this is a no brainer.
Nina S
★ ★ ★ ★ ★
TITAN 3 PORT CAR CHARGER
Always recall the days I wake up groggy and forget to charge my phone. I get to work and have to face no charge! Now I can roll out of bed and rock up at work fully charged every day. And keeping the kids happy and charge on long drives Is lovely too.
John D.
★ ★ ★ ★ ★
TITAN MAGNETIC POWER BANK
Small but Mighty! This powerbank is some real future tech. So It slaps onto my phone with a magnetic and wirelessly charges? Yes please! I get about three charges from this compact little unit. I love showing it off to people and doubling up as a stand is pretty sweet!
Harry N.
★ ★ ★ ★ ★
TITAN WIRELESS CAR CHARGER
My phone port stopped working so I am having to charge my phone wirelessly. I wanted one that could swivel, adjust, and hold my phone in place while charging.  This Wireless Charger checked off all the boxes. I love having my maps clearly in front of me. No more dangerous swerving trying to read maps off my knee.
Dawn C
★ ★ ★ ★ ★






Join the Titan Power+ Revolution Today
Sign up for our newsletter to hear first about our game changing new releases, latest tech news, upcoming events and more!
Join the Titan Power+ Revolution Today
Sign up for our newsletter to hear first about our game changing new releases, latest tech news, upcoming events and more!