"I now leave all of my clunky chargers at home and always bring this one anywhere!"
★ ★ ★ ★ ★  4.62 (Based on 134 reviews)


Why Choose the Titan Multi-Outlet Fast Charge Plug?
 - Charges up to 3 Devices at the Same Time
 - Ultra-Fast Charging
 - Usable in 40+ Countries

 - Unmatched Voltage Compatibility


Todays Price is: 50% OFF!

Why pack multiple charging plugs when 1 can charge up to 3 devices quickly - at the same time?

Combined with the Titan Smart Cable, you can charge multiple devices faster than you thought possible! The Titan Multi-Outlet Fast Charge Plug can charge up to 3 devices at 3.4A. It also comes with 3 attachment electric plugs for US, EU, and UK.

45% faster than regular charging plugs
3.4V-capable, ideal for iPhones (10W)
Smart transformer adapts to different voltages
Built to last with tough materials
Cable sold separately
★ ★ ★ ★ ★  4.62 (based on 134 reviews)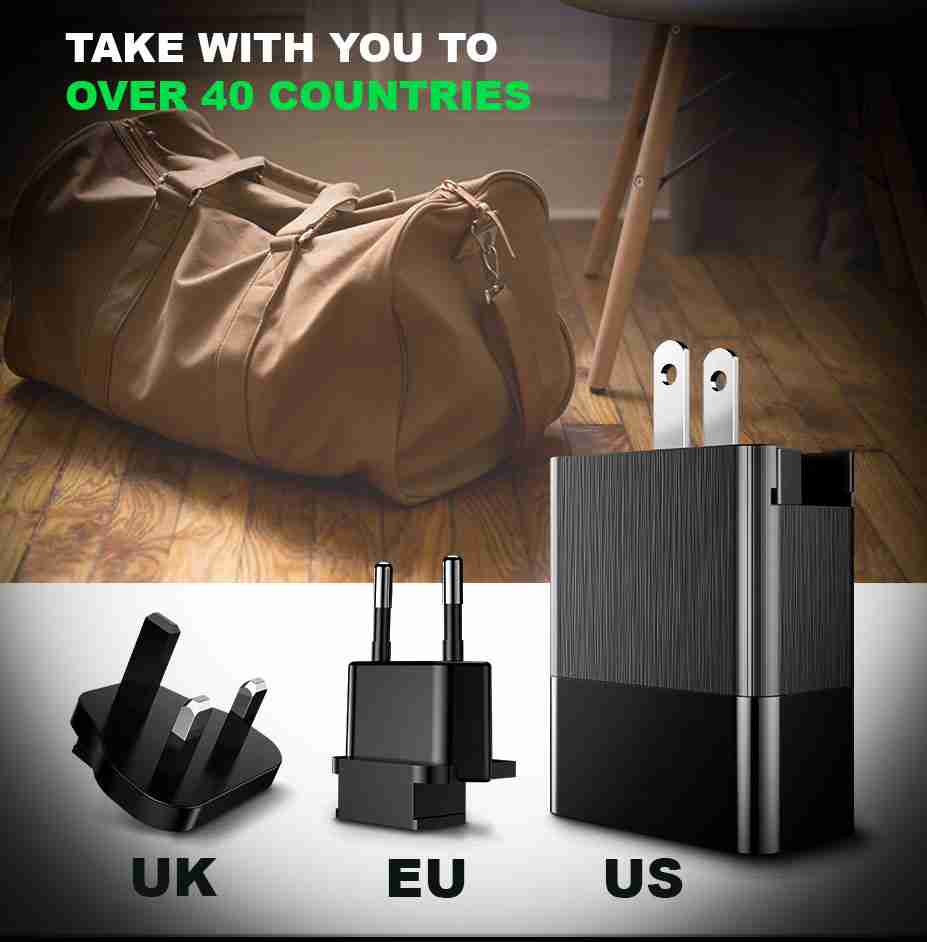 FAST CHARGE
SPECIFICALLY DESIGNED FOR FAST CHARGE CABLES
The Titan Multi-Outlet Fast Charge Plug transfers XX watts. This plug can accommodate a current of 3.4A allowing for charging up to 45% faster than regular plugs!
3 USB PORTS
CHARGE UP TO 3 DEVICES WITH ONE PLUG!
Nobody at home needs to fight over the last working charger. You don't have to fuss with bringing so many charging bricks on your travels. Now, you can fast-charge up to three devices at the same time!

USE IT IN OVER 40 COUNTRIES
COMES WITH 3 DIFFERENT ELECTRIC PLUGS
With multiple attachments; take this plug with all over the world. It's also built to work safely with your local hardware store's electric plug adapter for ultimate versatility.

UNMATCHED SAFETY
SELECTIVE TRANSFORMER ADJUSTS TO DIFFERENT VOLTAGES
Different countries run different standard voltages in their electric sockets. This ultra-smart charging plug adjusts to the available voltage off-the-wall for safe charging anywhere in the world!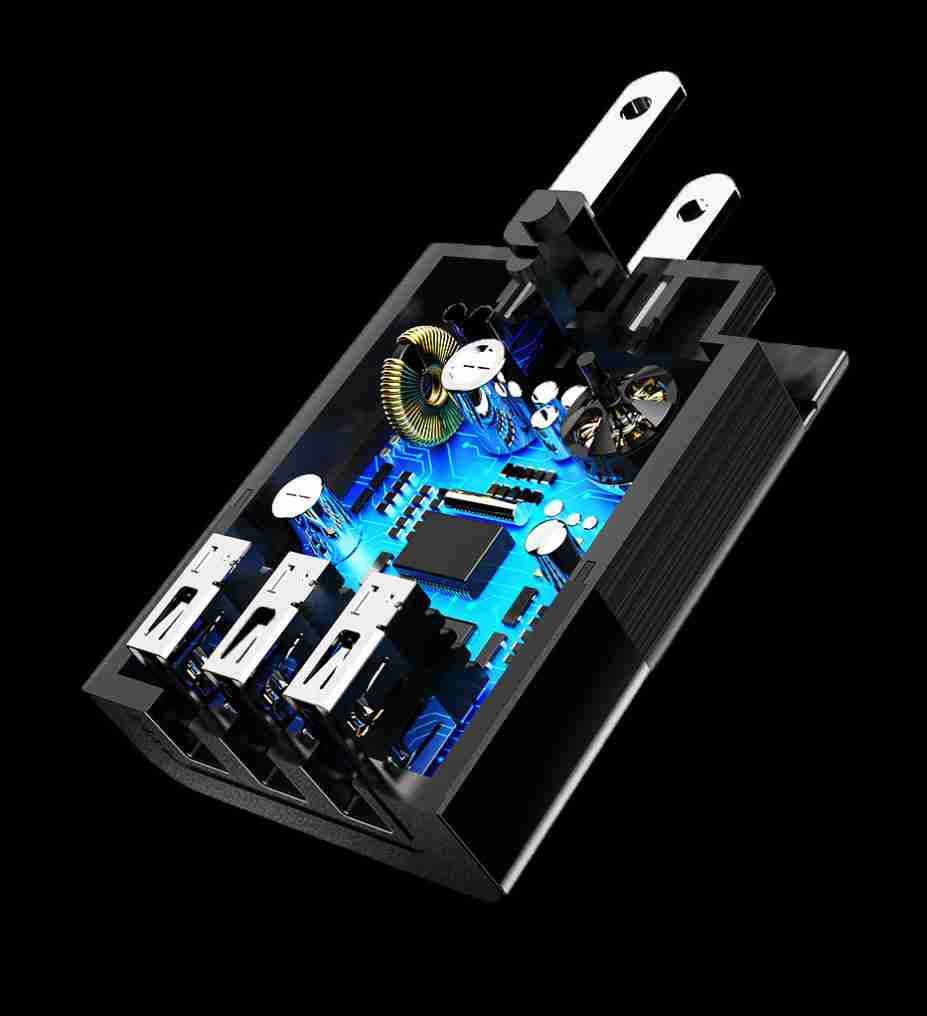 40% OFF Today!

NOTE:
 Genuine Titan Multi-Outlet Fast Charge Plugs,
only sold in this link.
★ ★ ★ ★ ★  4.62 (based on 134 reviews)

1. Is this charging plug safe to use with my device?

This charging plug delivers fast charging at an amperage level that is supported by your mobile device and will therefore not cause any damage. Pair this plug with a high-quality cable such as the Titan Smart Cable to provide the best combination for keeping your device safe.

2. What devices is this charging plug compatible with?

The Titan Multi-Outlet Fast Charge Plug will work with all devices that charge through a USB port. However, only devices with fast charging capabilities will make the most of the fast charging feature. The list of fast charging devices include, but are not limited to:


iPhone 8 and up

Samsung Galaxy S6 and up

Google Pixel 2 and up
Sony Xperia Z3 and up
Razer Phone 1 and up
ASUS ROG Phone and up
Any 2017 flagship device and up

3. How does the lifetime warranty work?

We have so much confidence in our cables durability that we offer a lifetime warranty on this product. This means that if anything happens, we'll send you a brand new one, free of charge!

The warranty covers any defects in material or workmanship. Furthermore, if any unexpected or unreasonable damage occurs this will be covered. Any intentional damage or damage caused by unconventional use will not be covered.

Please note that any cable sent out to you as a replacement will not be covered by this warranty.
Don't just take our word for it...
Rated 5 stars based on 134 reviews by happy customers

Our Guarantee

If you have any problems with your order or you aren't satisfied with your product, just let us know within 30 days and we'll get you your money back! 
We also have a lifetime warranty so you're covered in case anything happens to your product. 
Shipping & Tracking

All shipments are traceable through the 'track order' page on our website. In light of Covid-19, we are experiencing both higher demand and unpredictable shipping behaviour. Ultimately, we are taking extra measures to ensure the safety of our staff, drivers and customers.  (It's unlikely your order will hit the top end of this range) 



-US Delivery: 2-9 Working Days
-UK/EU/AU/CA Delivery: 5-17 Working Days
-International Delivery: 5-28 Working Days
Contact Us
If you have any questions or concerns please feel free to reach out to us at at
info@titanpowerplus.com

 and we'll get back to you as fast as possible (usually within 24 hours)! 



You can also contact us through our 'contact us' page using the link in the footer.
40% OFF Today!

NOTE:
 Genuine Titan Multi-Outlet Fast Charge Plugs,
only sold in this link.
★ ★ ★ ★ ★  4.87 (based on 134 reviews)