"The most feature-packed wireless charger I've ever had!"
★ ★ ★ ★ ★  5 Stars (Based on 99 reviews)
Todays Price is: 50% OFF!

SICK OF BALANCING YOUR PHONE ON YOUR KNEE TO USE MAPS? SCARED YOU OR A LOVED ONE MAY GET HURT BECAUSE OF THIS?!
The Titan Dual Mount Wireless Charger allows you to view your phone from your favorite angles while inside your car, on your desk or even by your bedside… All while staying
perfectly charged up!
Our latest addition to the Titan range comes with an infrared sensor that automatically opens when it detects a phone and automatically grasps it tight. Simply place your device on this wireless charger for
instant fast charging!

No more fussy wires!

 
What makes the Titan Dual Mount Wireless Charger so smart?
2 different mounts for use in your car, desk, and bedside
Proximity sensor automatically opens and clamps phone 
Wireless charging and hands-free operation for safe driving
3 charging modes for optimized charging on all devices

Fully-adjustable joints allow more than 100 different angles 
Your Car Charging Problems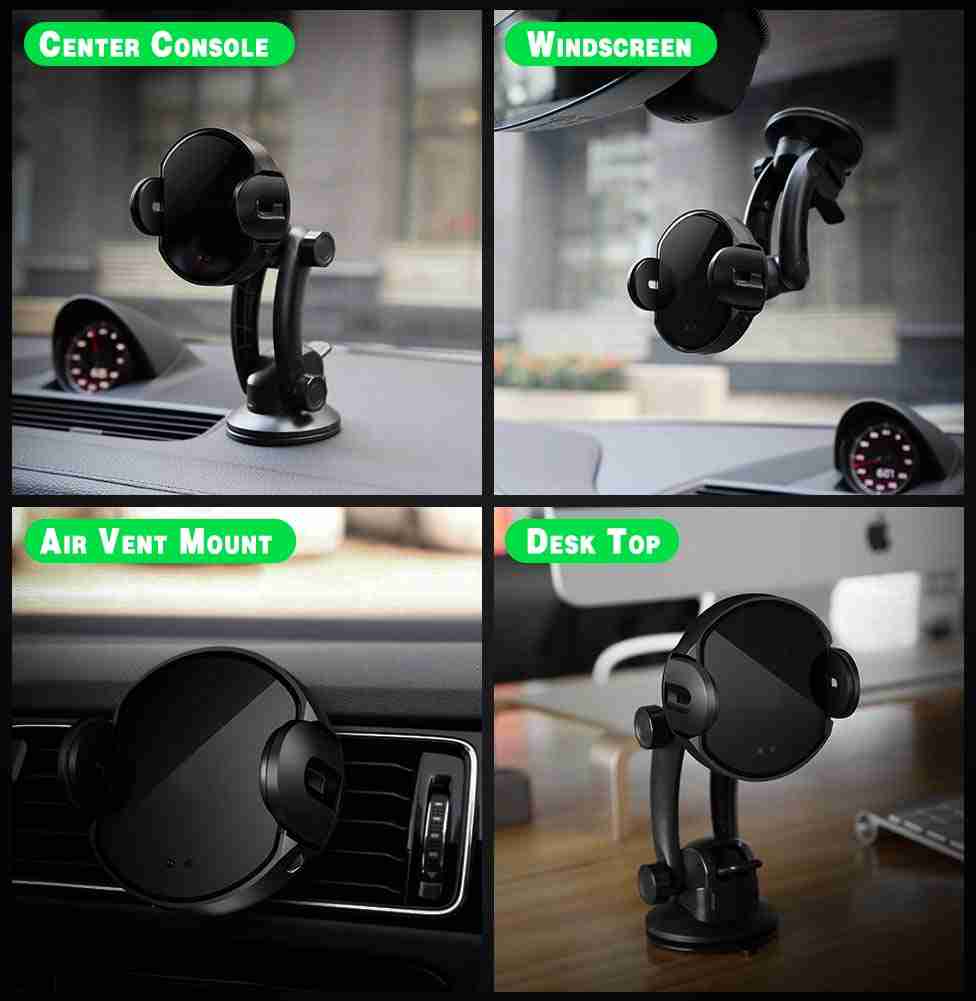 INCREDIBLE HANDS-FREE CONVENIENCE

BUILT TO FACILITATE SAFE DRIVING WITH FULLY ADJUSTABLE ANGLES AND AN INFRARED SENSOR
Featuring multiple joints for the best possible viewing angle and an infrared sensor that opens the clamp when you hold your phone above it and clamps down when you put your phone on top of it. No fuss, perfectly convenient!
DUAL MOUNTS FOR USE ANYWHERE
COMPATIBLE WITH MOST SURFACES & AIR CONDITIONING VENTS
The strong suction cup can be stably attached to almost any surface. Yet it is easy to remove, wash, and reuse. If you want to use your aircon's vents instead, the included air vent mount secures your phone despite its weight.
FULLY COMPATIBLE WITH QI WIRELESS DEVICES
IF YOUR PHONE CAN CHARGE WIRELESSLY, THIS CHARGER WORKS SEAMLESSLY.
With an automatic current detector, the Titan Dual Mount Wireless Charger can safely pass the perfect current through to the device that you're using. Safe for any phone model with wireless charging!
SAFE AND FAST CHARGING 
JAMPACKED WITH SAFETY FEATURES ENSURES NOT ONLY YOUR PHONE'S HEALTH, BUT YOURS AS WELL
The Titan Dual Mount Wireless Charger protects your phone and its components with the latest safety standards. You can place your phone for long hours, and you'll never have to worry about over-charging or damaging your batteries!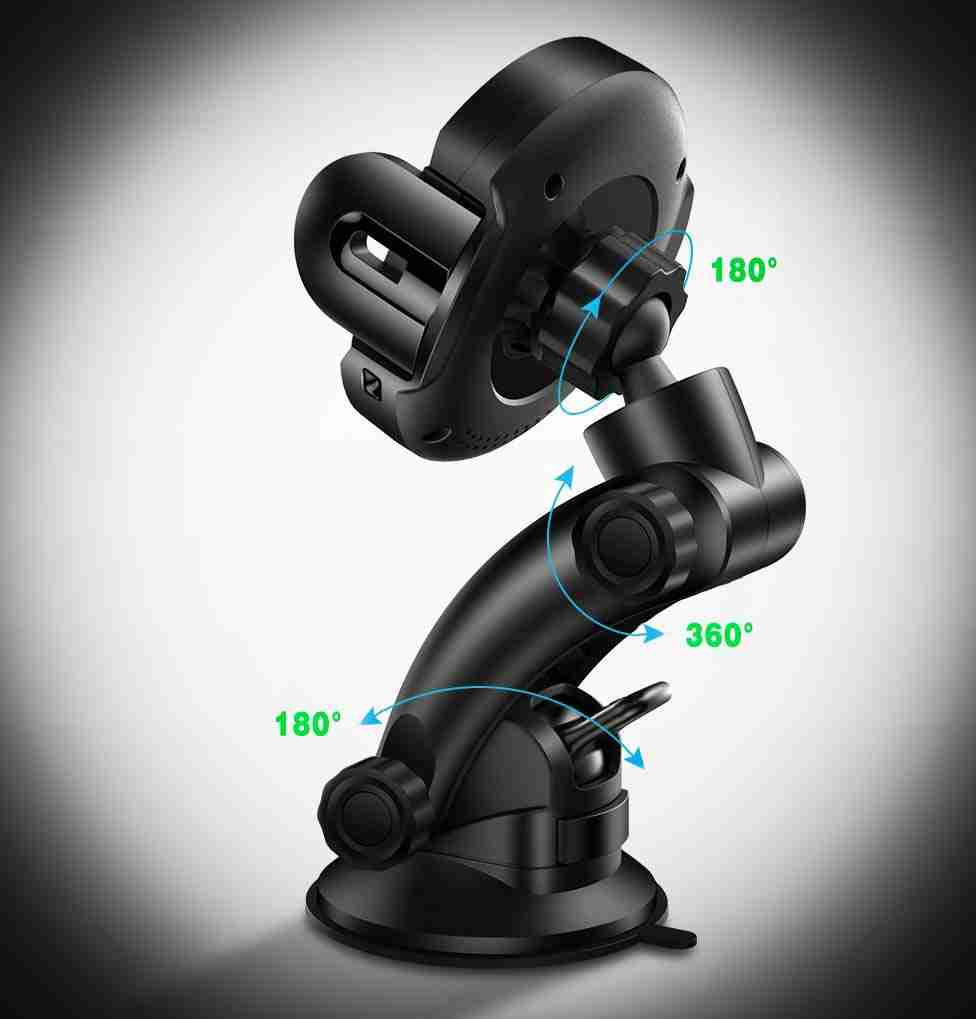 ★ ★ ★ ★ ★  5 Stars (based on 99 reviews)

Frequently Asked Questions
1. What devices is this compatible with?

The Titan Dual Mount Charger will work with all devices that allow Wireless Charging.



Apple iPhone: 8 and up
Samsung Galaxy: S6, Note 5, and up
LG: V30, G3, and up
Microsoft Lumia 920 and up
Google Nexus: 4 and up
BlackBerry: Priv, Z30
Asus Padfone S, ROG Phone and up





2. Is this charger safe to use with my device?

This charger delivers fast charging at voltages and currents supported by your mobile device and will therefore not cause any damage. Pair this cable with a high-quality cable like the Titan Smart Cable for top performance.

3. Is this compatible with my case?

Most of the cases we have tested, even the thicker ones such as Otterbox cases, work perfectly with the Titan Dual Mount Wireless Charger. However, any metal that comes in between your phone and the wireless charger will impede the transfer of power. However, given this fact manufacturers tend to avoid putting metal in phone cases.

Our Guarantee

If you have any problems with your order or you aren't satisfied with your product, just let us know within 30 days and we'll get you your money back! 
We also have a lifetime warranty so you're covered in case anything happens to your product. 
Shipping & Tracking

All shipments are traceable through the 'track order' page on our website. In light of Covid-19, we are experiencing both higher demand and unpredictable shipping behaviour. Ultimately, we are taking extra measures to ensure the safety of our staff, drivers and customers.  (It's unlikely your order will hit the top end of this range) 



-US Delivery: 2-9 Working Days
-UK/EU/AU/CA Delivery: 5-17 Working Days
-International Delivery: 5-28 Working Days
Contact Us
If you have any questions or concerns please feel free to reach out to us at at
info@titanpowerplus.com

 and we'll get back to you as fast as possible (usually within 24 hours)! 



You can also contact us through our 'contact us' page using the link in the footer.